ANNOUNCEMENTS
Peter Shostak was named a Trans Canada Trail Champion
After many years of hard work and dedication by countless Canadians, Canada's Trail was connected this summer in conjunction with the 150th anniversary of Canadian confederation.
The completed east-west route from Saint John's Newfoundland to Victoria, British Columbia is approximately 10,000 kilometers in length. This trail was woven together from hundreds of local trails, such as the Galloping Goose Trail in Victoria, the Petite Temis in Quebec , and New Brunswick and Prince Edward Island's Confederation Trail.
As part of the celebration of Canada's 150th birthday a special pavilion in Ottawa marked the full connection of the trail. Included in the pavilion are the names of 158 National Trail Champions. This list features well known Canadian personalities such as Brian Adams, Rick Hansen, Cindy Klassen, Peter Mansbridge, Alex Trebek, and Haley Wickenheiser.
2017
Canada House Gallery, 201 Bear Street, Banff, Alberta
Canada 150 – A celebration of Canada's 150th Anniversary
Exhibition date: May 10 – 23, 2017 Artist's Reception: Saturday, May 13, 2 – 5 PM
Peter will be in attendance on May 13.
2018 – 2019
The Ukrainian Heritage Village (An Alberta Provincial Historic Site)
Located 25 minutes east of Edmonton, along Highway 16
Opening date to be announced
This will be a two-year solo exhibition of paintings and serigraphs inspired by Ukrainian pioneer settlement.
Information about the exhibition:
2017 marks the 125th anniversary of the arrival, from Ukraine, of the first group of pioneers, who settled in the Edna-Star area west of Edmonton. Prior to the arrival of this first group of settlers, in September, 1891, two adventurous Ukrainians, Eleniak and Pylypiw, had travelled to Canada to determine if the open, unsettled prairies were suitable for settlement. Their favourable reports led to the subsequent arrival of thousands of land-hungry, industrious farmers and their families, who settled across the prairies. During his career of more than forty years as an artist, Peter Shostak has drawn upon the pioneering experiences of these settlers for some of his artistic inspiration.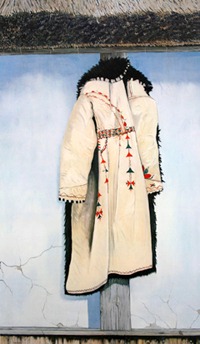 Was That Your Baba's Coat?